Educational institutes now use School Management system software to better perform their school administrative activities and to provide parents with real-time updates on their children's progress and safety. Many features are often included in such applications, allowing schools to improve their performance with minimal effort. Many academic and administrative activities are automated using School Management software, which eliminates the need for manual paperwork. Let us now look at why institutes must implement it.
Management Systems for Schools In today's educational system, it is extremely important. School authorities around the world are involved in a variety of administrative and academic activities daily to effectively manage and provide a better academic experience to students. However, in today's fast-paced world, keeping track of school administrative activities is a difficult task. It necessitates hard work and is frequently time-consuming.
Information for Students
Attendance, homework, discipline, grades, and accomplishments are all Parents play an important role in their children's education! A school management system can provide easy access to all information related to students. It enables teachers to obtain information about students quickly and easily, thereby reducing their workload. A school management system's student database contains a wealth of information about students, including their examination grades, parental information, medical history, school fee details, and so on. Many school management systems also allow students to receive real-time information and announcements via SMS.
Parental Control
Parents play a significant role in their kids' education. They're constantly engrossed in it. It is also necessary to keep them informed and updated on their child's progress. Previously, schools had to hold parent meetings to keep parents informed about their children's academic progress. Parent meetings were time-consuming, and many parents found it difficult to attend due to work schedules, family issues, and other factors. Parent notification has become much more straightforward since the introduction of School ERP software. Mobile apps and SMS services, among other things, can be used by school ERP systems to notify parents about their children.
Information for Teachers
A school management system does more than just provide data on students. It can also provide real-time data on teachers' activities. School administrators can view a teacher's class schedule, daily reports, and other information. School management systems that use artificial intelligence can even monitor teacher performance and make real-time suggestions to improve teaching quality. It also includes a dedicated portal for teachers, making it easier for them to access all student and school-related information.
Notifications via SMS and in-app notifications in real-time
The ability of teachers and parents to communicate is critical to a student's academic success. Through SMS messages and live chats, school management systems enabled real-time interaction between teachers and students. A dedicated parents portal is available in every school management system.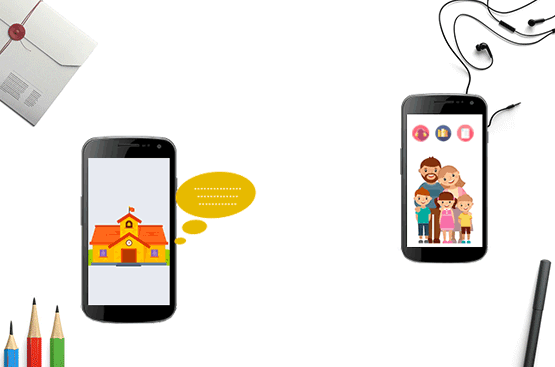 Parents can communicate with teachers and school officials via text messaging, voice chats, or emails through the portal. Bulk SMS/chats can also be used to notify everyone about important school announcements such as teacher's day, annual day, and cultural day. This will free up time for school administrators to make individual decisions.
Management of Attendance
An attendance management system is a necessary component of school ERP software. The institute's ERP system's attendance organization system swaps the old and slow paper-based attendance systems. Taking attendance has become faster and more comfortable thanks to RFID school management systems. Attendance management systems like these ensure error-free records and eliminate the possibility of proxy attendance.
Report Cards
A student's hard work is reflected in their report cards. The preparation of paper-based report cards for each student could take several hours. With an interactive GUI, a school management system can help streamline the process of creating report cards. The report card may only take a few seconds to generate because the database already contains information on the students' performance and grades. Before printing the report cards, teachers can review and edit the information at any time.
Online Fees Payments and Fee Management
Collecting fees from students is a time-consuming process. Parents can pay their child's school fees online using their debit or credit cards thanks to school management systems. The software can quickly generate receipts for all incoming payments. This makes the entire school fee payment process extremely convenient and straightforward.
Many school management systems also include additional features such as library management, examination management, admission management, and so on. The automation of these processes makes school administration simple, ensuring that the school runs smoothly.
The best online school management system solution
Codexxa Business Solution provides a complete software solution for managing all aspects of school operations, from exams to events. Our solution is tailored to your specific needs and requirements.
Codexxa has a team of highly focused, dedicated, and experienced professionals who are well trained and qualified. We provide educational institutions with safe and user-friendly solutions. Codexxa is the leading school management system software development company for hassle-free management of your school or educational institute. We understand your pain, which is why our solutions are designed to help you save time and effort.